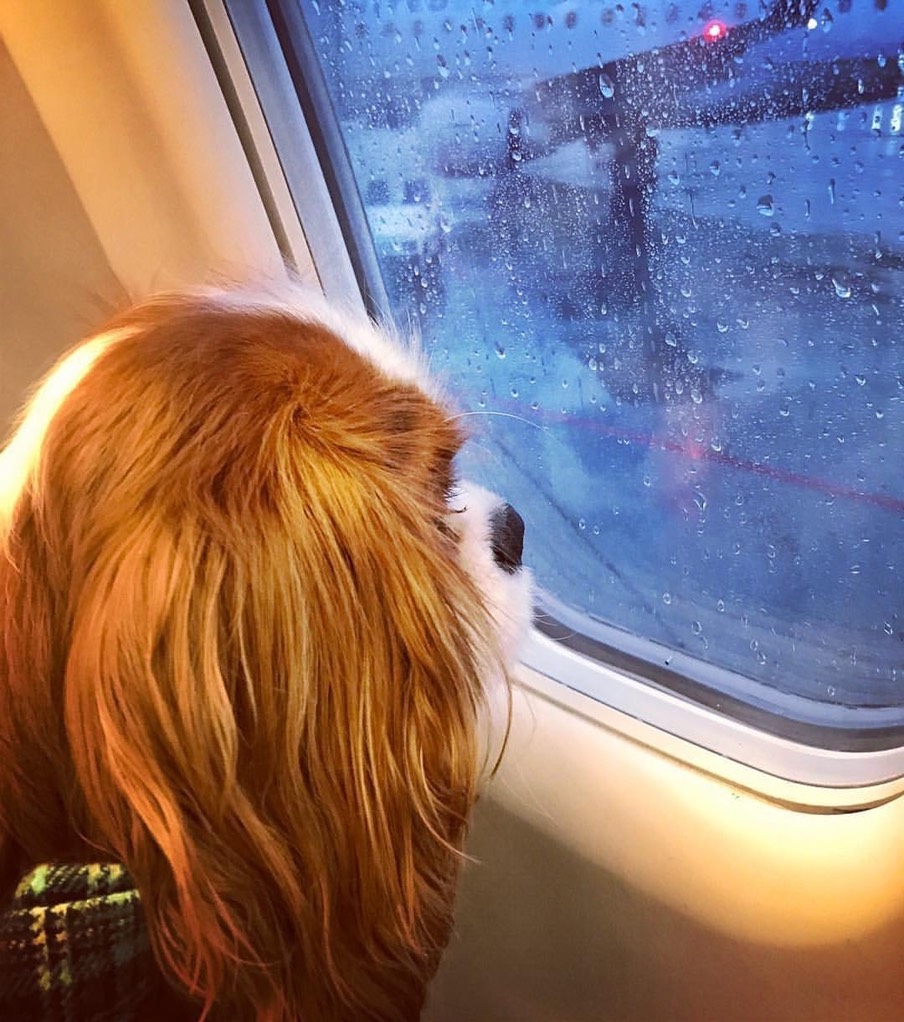 Cavaliers are great travel companions!  The only drawback is they are a people and crowd magnets… everyone wants to greet them and they have to say 'hello" to everyone too.  




Here are some quick trips to making travel safe and enjoyable: 

   At the bottom of the page is the LynWood Rules of Travel




HEALTH & SAFETY




Health -  Make sure everyone is healthy to travel.  Puppies should not travel until they have had all their inoculations including Rabies.  Older Cavaliers or those with MVD, CM-SM or other issues may find staying home with a sitter more comfortable.  In-house boarding with their breeder, close friend or in-home dog sitter is ideal for Cavaliers.  




Shot Record - Make sure your companions are up to date on all their shots and keep a COPY of their shot record and your Veterinarian information.  Rabies must be up to date by law.  If flying, a health certificate may be required. 




Microchipped - Your Cavalier should have a Microchip and your current contact information should be updated.  LynWood Cavaliers are microchipped with AKC Reunite 




Collar / ID Tag with Current Contact Information on the collar and inspect and make sure your leash and collar are sturdy and in excellent condition.  Proof of Rabies shot. 




WHAT TO TAKE  




Crate - 

   In the car take their crate.  All our dogs ride in their crates for their safety and ours. 

   Airline flights we use a Sherpa Pet Carrier and easily ordered on Amazon.  Make sure of the size and that it fits under the seat.  Check with the airline for reservations and weight restrictions.  It changes often. 

 

Regular food - enough for the trip plus a couple extra days. 




Bottled water or water from home.  




Bowls - Food and Water




Medications




Anti diarrhea medication  




Poop bags or plastic baggies  Paper towels and wipes for clean ups. Bottle of Water & Vinegar for clean ups.  Extra trash bags.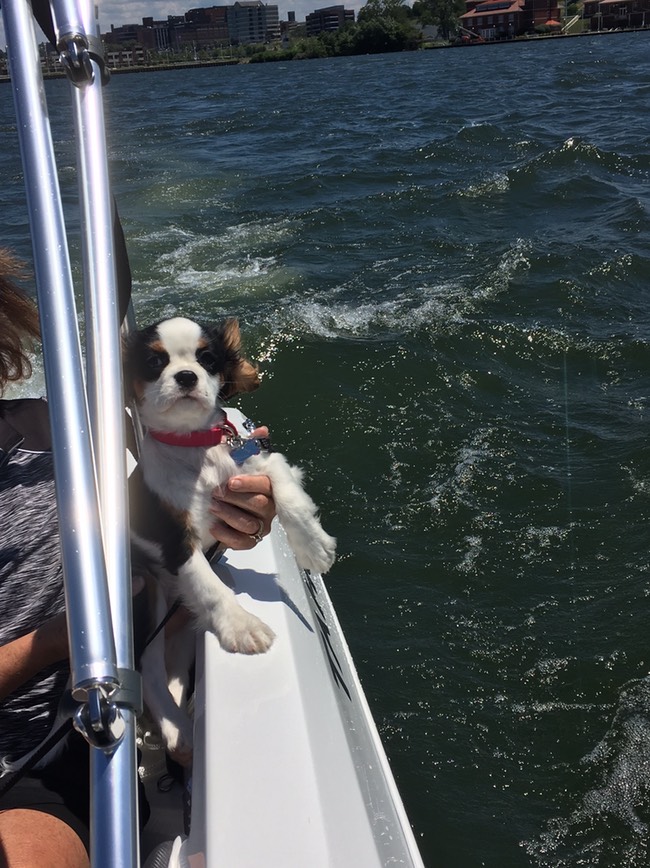 TRAVELING BY CAR: 

  

Make sure they are use to going in the car.  We always travel with empty stomachs.  This will help avoid motion sickness.  Water is always offered at stops. 




We use wire crates to allow plenty of ventilation and so you can see and hear any issues.  




POTTY BREAKS 




We stop often for potty breaks.  We NEVER allow our dogs to visit rest stops, gas stations or travel centers.  This is a breeding ground of bacteria, viruses and issues left by thousands of other dogs of unknown health issues.  We do find empty fields, back areas of churches (my favorite) and industrial business centers.  We ALWAYS clean up and have plastic bags eat ready.  




NEVER leave your dog unattended in a closed vehicle!  I won't eve say during summer… this is a NO under any circumstances.  Theft of Cavaliers as well as their safety is paramount.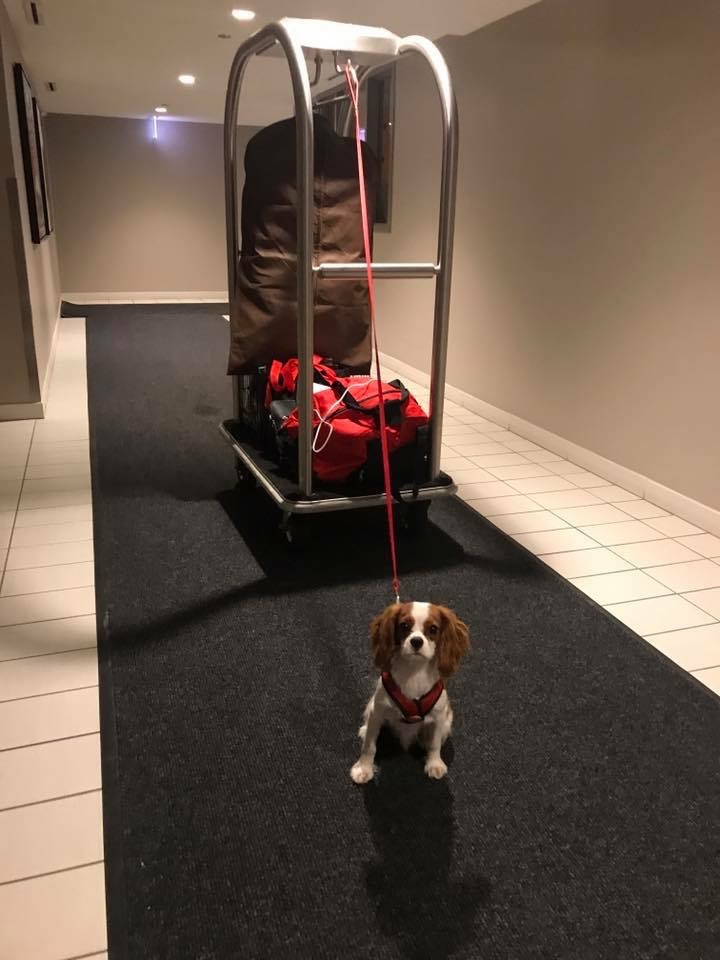 Lodging / Hotels / Motels 




Make sure your lodging is dog friendly.  Also make sure your Cavalier is Hotel friendly and that they are not going to bark or have management come get you.  Hahahah…. Not!!   All dogs must be in their crates when you leave the room.  Dogs can get upset in new surroundings and can cause a lot of damage in a short amount of time.  We put a large black plastic garbage bag under the crate to catch dog hair and anything else.  We also clean up after every outing.  No exceptions.  One bad guest can ruin it for all the rest of us.  If you see someone else didn't then you get their job too! This keeps hotels friendly to dogs. 




Word to the wise, make sure if you are planning to stay with family that you follow the same rules as a hotel.  Also make sure no one is allergic to dogs.  This happened to a dear friend of ours and she had to stay down the road in hotel for the week.  A huge unplanned expense.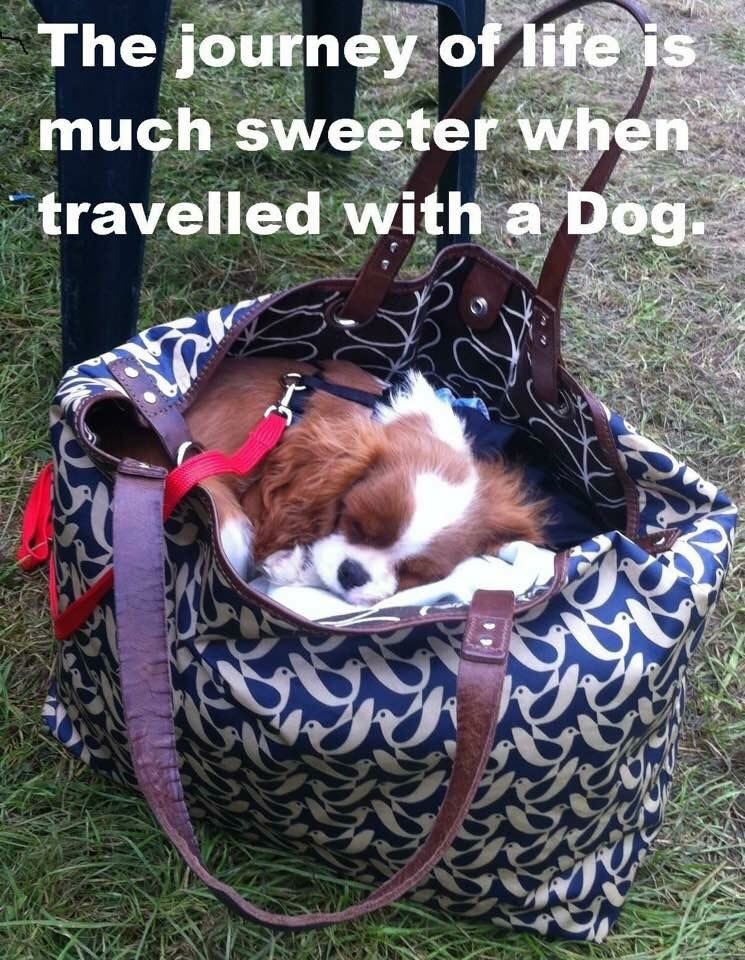 LYNWOOD RULES WHEN TRAVEL:




All dogs travel in Crates

Food is half rations at night - after the car ride

Bottled water only

No potty breaks at Gas Stations, Rest Areas or Travel Centers 

Potty breaks only at Industrial park Centers / Open fields / Churches (my favorite) and unused areas.   

Copies - not originals - of shot records 

Confirmed reservations includes dogs

Clean up supplies (poop bags, small bags, paper towels, spay bottle with water & vinegar for cleaning) in a small bucket. 

Leads clipped to crate doors.  Extra lead in glove compartment.  

The cooler the car, the more the dogs sleep.  The more they sleep, the less problems you have.  In the summer I am known to travel with a jacket on!  

Music also keeps them quite in the car or hotel rooms. 

Old favorite toys or chews… nothing new.  No surprises needed on a travel trip.  

Hot weather, always check the temperature with your hand of the parking lot or walking surfaces.  

Always have the Collar on and clip the lead to the collar before the dog gets out of the crate.  ALWAYS unclip the lead from the collar when putting the dog back in.  NO flexi leads.  

Everyone has to ask you about a Cavalier!  You will be meeting a lot of wonderful people.  Enjoy your trip.   
Hank at the National Specialty with his Best in Show High in Trial ribbon hanging on the poster and a bag full of class ribbons.  Hank and Mary Mazella are an incredible team.  Watch for Team Hank at the 2018 Nationals.