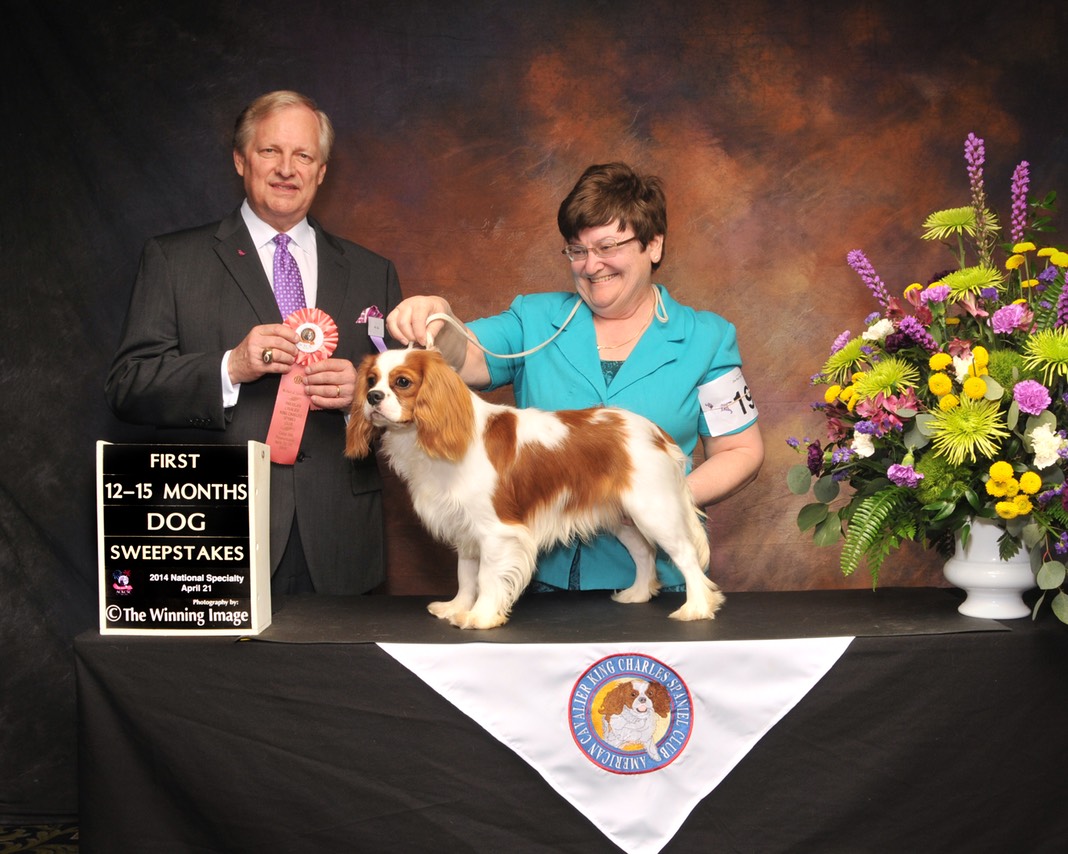 Bo has BIG shoes to fill…. being one of the last sons of AKC CH Trifoil Boston Pops - Ellis by Breeder / AKC Judge Stephane Abraham.  Stephanie based most of her lines off of Homerbrent by the late Molly Coaker in the UK and Elvenhome by Jeanie Montford in Australia.  
   We were thrilled to have used Ellis with his clear heart at age 9  and a pedigree of parents and grandparents enjoying 10 plus and remaining heart clear.   Minty - Elvenholm Creme de Mynth clear at 15.   
Boudreaux is learning the show ropes at SnoWood with Meg Hennessey.  He made quite a splash at his debut at the 2014 National Specialty Furturity and Specialty winning all his classes.     His litter sisters Clair and Cat are busy at LynWood
Dam:  LynWood Seven Wonders of World
Sire:    AKC CH Trifoil Boston Pops
Heart: Clear 2 years
Eye: Clear 2 years 
Hips: Good at 2 years 
Patellas: Pass at 2 years 
DNA: Clear by Heredity 
MRI for CM0 SM0   Both Bo and his litter sister Cat have excellent MRI scans!   
Bo is over 2.5 years of age and we are now starting to use him at Stud.  He is finishing his AKC championship and can be seen at the shows now with Meg Hennessey.  He is also the sire of a recent litter of stunning puppies. 
Click the OFA Canine Health Information Center CHIC Logo below to view some of  Bo's health certificates.