We are thrilled that you are interested in a LynWood Cavalier and will be happy to answer all your questions on the breed, health testing and our breeding program.  
    Linda and Woody have been committed to the world of dogs for over 30 years.  As active members of the Cavalier King Charles Spaniel Club of Greater Chicago as well as the AKC recognized Cavalier National club, Linda and Woody actively exhibit at local shows and annually attend the Cavalier National.  
    We are always attending seminars, researching pedigrees and staying current on health testing to better the next generation.  Linda has been active with the Van Andel Group and Dr. Neff and his research on early deafness.  In 2012 she spearheaded a national DNA swab collection for 3,500 individual Cavaliers for this and additional research.   Currently she is workig to spread information about the importance of MRI scanning to reduce the incidence of CM /SM. 
    As with all responsible breeders, we extensively health test and openly provide test results for all of our dogs including the Dam and Sire of your puppy.  We also provide a link to OFA where most of the certifications are listed online.  This is NOT a selling / marketing tool, but our standard breeding protocol. 
    Here is a list of tests that each LynWood Cavalier has to pass prior to being bred.  If you click on the header it will take you to the health topic to explain the test and why it is necessary and essential for a healthy Cavalier puppy. 
Eyes:   Starting at 8 weeks and then Annually by  Dr. Steve Sisler DMV DACVO is a Board Certified Opthamologist.   
Heart: Annually with our Board Certified Canine Cardiologist. 
Hips / Patellas: At Age 2 X-rays by Dr. JoAnn Randal and patella exams are submitted to OFA for grading and listed on www.offa.org 
DNA  For Curly Coat / Dry Eye and Episodic Falling Disorder by the Animal Health Trust in England.   We send saliva swabs and receive the test results.  
 MRI for SYRINGOMYELIA:  At Age 2 all of our Cavaliers are MRI scanned with Dr. Michael Podel in Chicago IL    
     We feel that annual Heart exams and MRI scanning over the age of 2 are both critical for each and every Cavalier that is bred.  Yes, MRI scans are extreamly expensive, however breeding asyptomatic affected dogs is irresponsible.  MRI scanning is the only way to determine if there is a problem.  Please if you do not know about CM/SM in Cavaliers click on the link above and read more valuable information.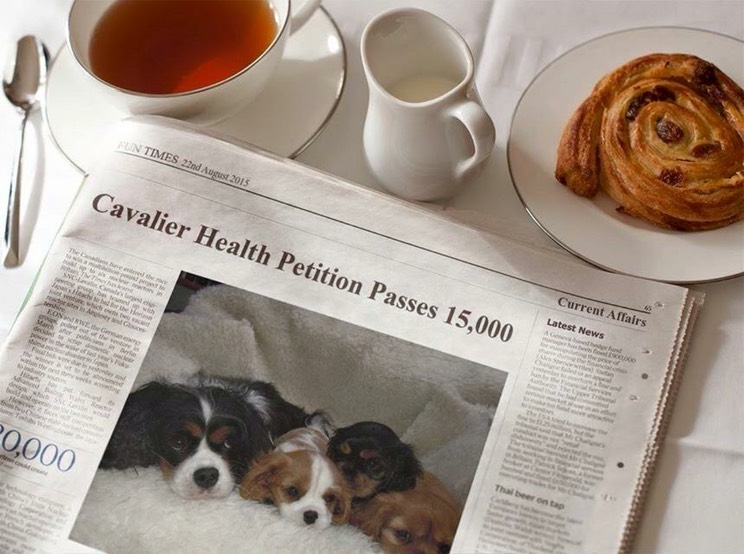 All of our puppies are sold as companion dogs and are placed on spay/neuter contracts.  They will have all the privilages with ACK and can compete in Agility, Jr. Showmanship, Obedience and Rally.   
    LynWood puppies always have a welcome home here in the event that you are no longer capable to care for your Cavalier.  They are never allowed to go to a shelter or placed in Rescue.  We also require that our puppies are microchipped with the AKC CAR program which has nearly a 100% return rate and no crazy annual fees!   
    When you adopt a LynWood puppy, you get us for life!  We are only a phone call away with questions that should arise for the lifetime of your Cavalier.  Our puppy owners are not clients they are friends for life.  
    Call or email us with questions.  We always have time to talk about Cavaliers!
Linda & Woody 
224-600-4494
LynWoodStudio@gmail.com
Or fill our Questionaire to get the process started.