This section on Hip Dysplasia and Patellas is coming soon.  In the meantime, please note that all Cavaliers should have their hip X-ray graded by OFFA prior to being bred.  Hip Dysplasia does affect Cavaliers and is just as painful as in large breeds such as the German Shepherd and Labrador Retriever.  
    Do NOT buy a puppy unless both parents have had their hip and patella certifications.  A veterinarian note is NOT an acceptable form of certification.  Call us or go to CavalierHealth.org if you need additional information.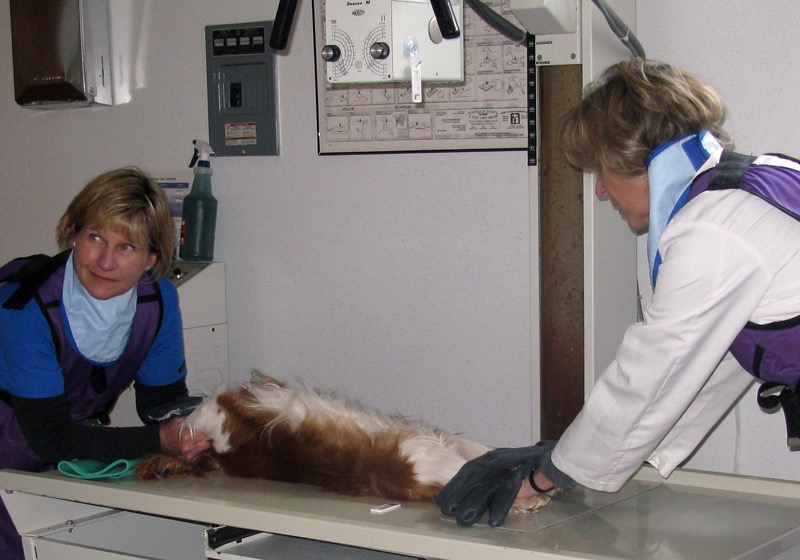 This is our Faith having her hips xrayd.  She is NOT under any sedation.   Please note that a lead cover has been placed over her head for additional protection and she is quiet relaxed.  I am sure not overly excited about this, but not fearful, in pain or uncomfortable.   She did get a cookie afterwards!
     Immediately, we are able to view the digital copy of the x-ray.  Dr. JoAnn insures everything is lined up according to the guidelines of the Orthopedic Foundation of America (OFA).  The x-ray and fee are then submitted to OFA and we are now awaiting the results.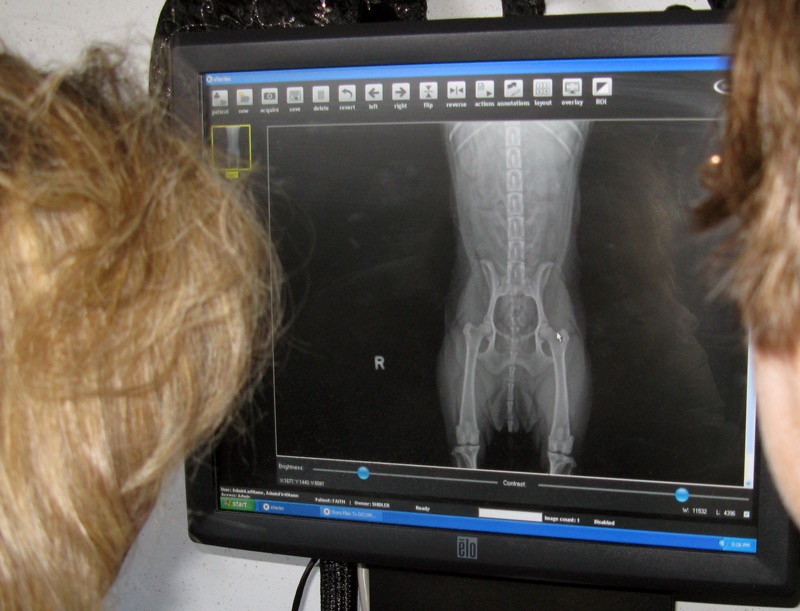 Below is a larger picture of the computer screen… not the original scan.  
     As you can see both sides are symmetrical.  As a breeder, I look for deep sockets and the ball heads to be more than 50% covered, smooth & tight with no gaps.  We are very pleased with this X-ray and the final report from OFA was an Excellent.