Sue and Linda have been friends for many years.  We have been breeding our Cavaliers together over 15 years ago.   Sue was one of the main reasons Linda & Woody relocated to the Chicago area.  
We both have a passion for not only health, however both our breeding programs started from the same renowned Homerbrent kennel by Molly Coaker in the UK. (Molly)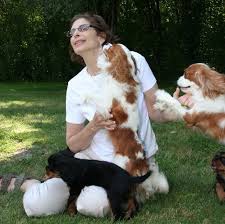 Sue bagan SevenWoods Cavaliers in 1990 with Ch Salador Caldire of Islehaven and Ch Homerbrent Mohican.  Both co-owned with Trish Hutchins.  
Known for health testing and very long lived Cavaliers, Sue began MRI scanning in the US in the 1990's.   She closely works with several Canine Neurologist including Dr. Michael Podel and has been on health panel discussions of CM/SM as it pertains with the Cavalier.    Sue was the first breeder to have a Cavalier scanned in the US for health testing reasons.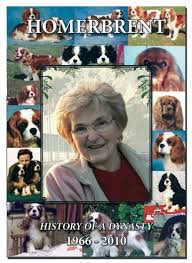 Sue was the founder and first president of the Cavalier King Charles Club of Greater Chicago and serves on the Board for the Cavaliers of the Midwest regional club for the Cavalier King Charles Spaniel Club USA.   She remains an active member of both clubs and was also the Show Chair for the CKCSC Regional shows.  
Now retired from the medical field,  Sue has obtained her AKC Judging license and has judged several prestegiouse Cavalier Specialties across the US.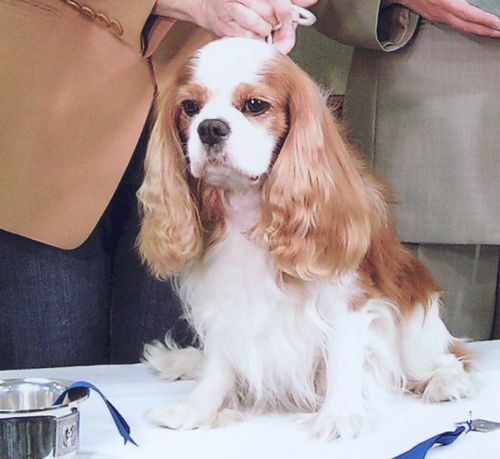 Champion Homerbrent Esquire at SevenWoods - Eric, winning Best Veteran in Show at the Cavaliers of the Midwest show under Shealagh Waters and Hans Boelaars.  He also won the Health and Conformation class.  One of the requirements for entry into this class is to be heart clear and as he celebrated his 10th birthday at that show.    Sue has been well known for showing her veteran dogs.    
Ch Nizizane des Marliviers SevenWoods - Nizi was best Veteran in Show under Linda Flynn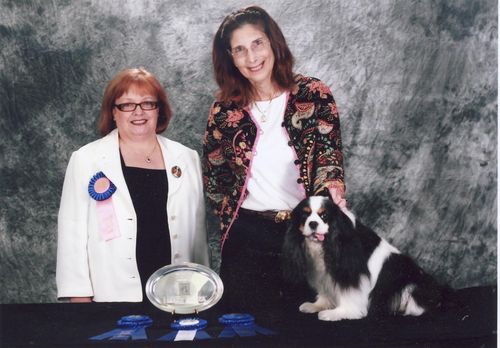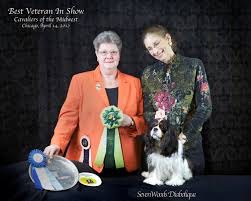 Sue showing Dido - CH SevenWood Diabolique with her winning Best in Show Veterans in 2012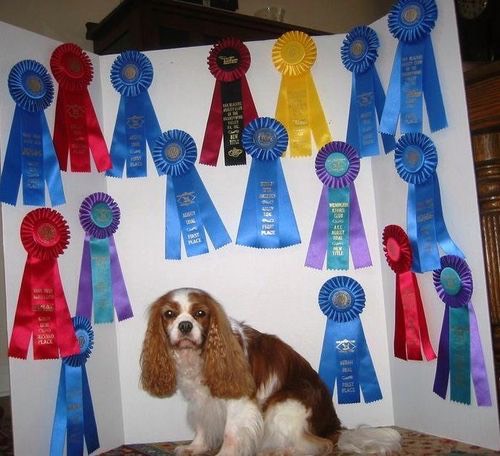 Good Golly Miss Molly!  SevenWoods Eyre - Molly is an excellent jumper.  Bred by Sue Shidler and owned by Kathleen Raubacher who won awards in Ope Agility, Open Agility Jumper and one leg in Excellent jumpers.  She also is the mother of  Champion SevenWoods Desperado and SevenWoods Highfield Dune.  
Sue continues today to breed a couple of litters a year and attends most of the local and regional shows.  Her priorities are the same with breeding fully health tested Cavaliers.