Molly is my shadow and nightly foot warmer.  She is always by my side or on the arm of the sofa.  She is the quiet one that is always there! I love her big eyes and her uncanny ability to stand on her hind feet for what seems like hours.  We have a wonderful photo of  my 'southern raised girl' and her first experience with snow.  She stood on her back legs for what seemed like hours attempting to catch snow flakes.  Now into our third winter, the novelty has worn off some!  She now spends all her time playing tirelessly with her children.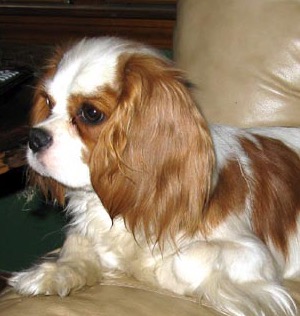 Dam:  LynWood Seven Bridges Road 

Sire:    AKC CH Sevenwoods Winterberry

Heart: Clear

Eye: Clear

Hips: Good

Patellas: Pass

DNA: Clear

MRI for SM0 / CM0: Excellent  




Click the OFA Canine Health Information Center CHIC Logo below to view some of Molly's health certificates.  Molly has been MRI scanned for CM/SM.  Just like her mother LynWood Seven Bridges Road (LoveBug) both have a Excellent MRI reports from Dr. Podel.  Molly is 4th in a line of clear MRI scans.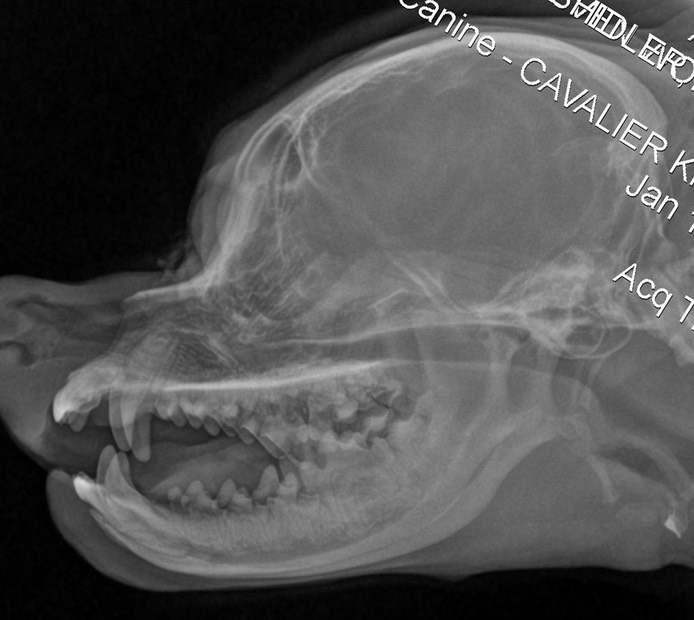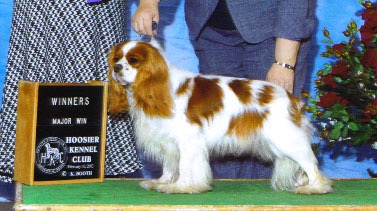 AKC CH Sevenwoods Winterberry owned by Linda Baird / Susan Shidler and shown by Meg Hennessey. 
  Special thanks to Chris and Gretchen who are now the proud owners of LynWood Little Red Vest - Pedro who took this picture of Molly.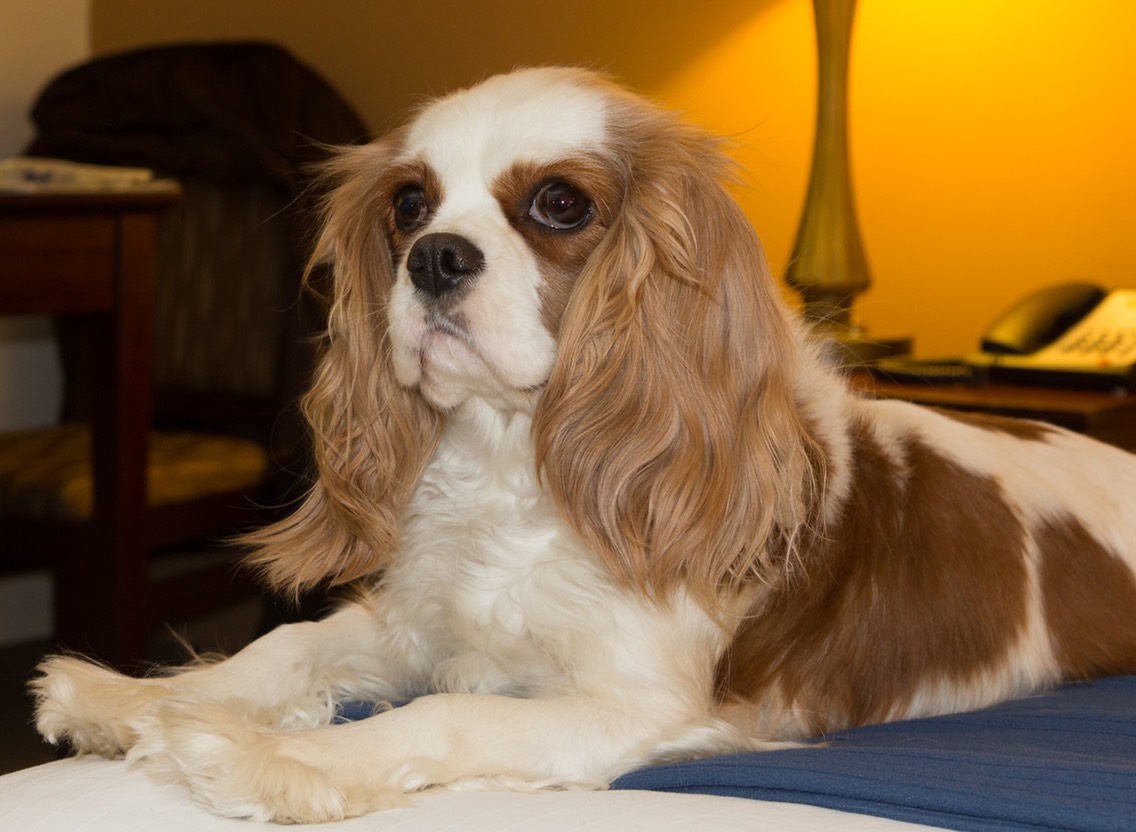 Fall 2014 Molly was bred to WestGate Coconut Breeze (Derrick pictured below) who is owned and bred by Piera Brown of WestGate Kennels.  Derrick is a SevenWoods Dakota son and is fully health tested and has an Excellent MRI scan for CM/SM.   Derrick is halfway to his championship.    They are the proud parents of three beautiful tri-color babies Drake, Party Girl and Gypsy.  They will be making their debut in the June 2015 Chicago Specialty show!!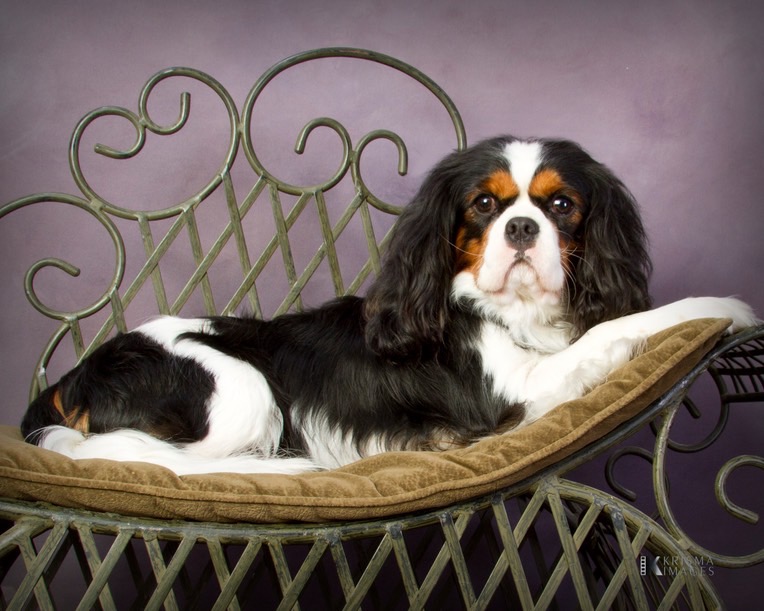 In Spring 2013 Molly was bred to AKC CH Trefoil's Boston Pops - (Ellis) who is owned and bred by AKC Judge Stephanie Abraham.  Ellis is 9 years old and Heart (MVD) clear.  Ellis has in incredible line of long lived MVD clear ancestors.  His grandmother is 15 and Heart MVD clear.        
Molly x Ellis children :
LynWood Cajun Moon over Snowood - Boudreaux  Linda Baird, Meg Hennessey & Woody Goode
LynWood Clair de Lune - Clair / Linda Baird & Woody Goode
LynWood Moon Shadow over Snowood - Cat /  Linda Baird, Meg Hennessey & Woody Goode
LynWood Mr. Moon - Beau who has a wonderful family.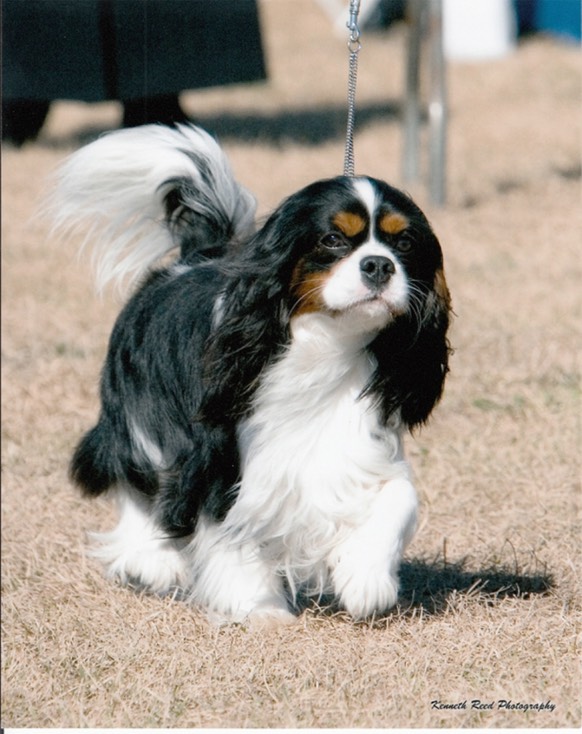 In Winter 2013 Molly was bred to Suestina Midnight Express (Duncan). Duncan is a lovely tricolor Bred by Beth and Peter Blackburn from the Kinvaar lines of Debbie Kerr in Scotland.
     Gayle and Tom Reardon of Sioux Falls, SD are the proud owners of  Duncan.  He has had a successful show career and qucikly achieved his AKC Grand Championship.  Gayle who has Kilbride Pride Cavaliers is a very proactive in health testing all her dogs and MRI scans for CM / SM (Syringomyelia).  Not only is Duncan beautiful, structurally sound, but healthy and has a line of healthy ancestors.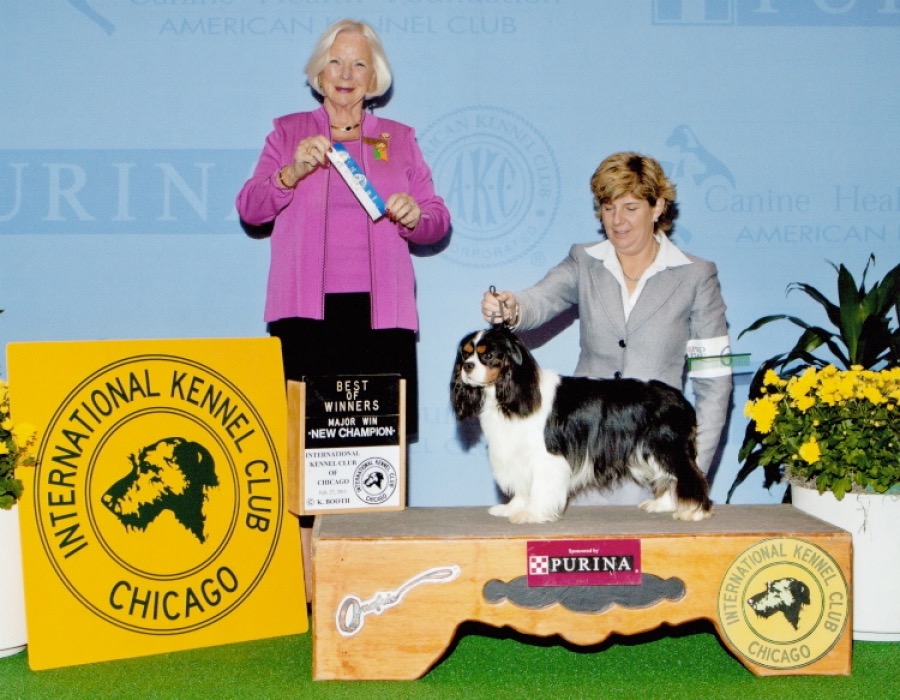 Molly and Duncan had a litter of 5 beautiful puppies.  2 Blenheim boys, 2 Tri Color Boys and an ever so precocious blenheim girl named Paisley.  Meg Hennessey has decided on the stunning Tri Boy named Trick and Linda will be keeping Paisley.   We look forward to watching them grow this year and starting them out in the puppy classes this summer.